[Mac] MiniTube is a small application that can play YouTube videos on your Mac or Linux based system without requiring the support of Flash.  There are situations where you can't get the Flash working or just like a Flash-free viewing experience, and that is where Minitube comes in handy. It is a complete YouTube client and hence it has the capability to search and  play YouTube videos in both normal and HD formats on your Linux, Ubuntu or Mac based system.
Upon its first launch, you will come across a search field on top right side. You will get a list of results for the search on the left side bar, and the video window on the right side as show in the picture below.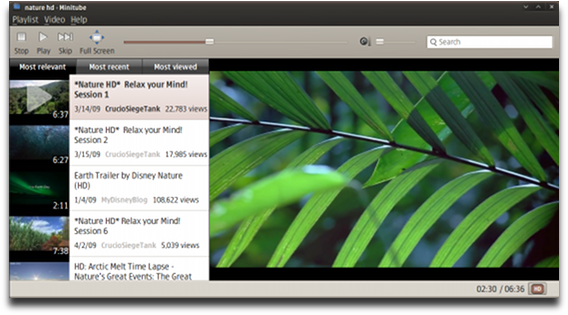 You can toggle HD viewing on and off, switch to full-screen mode for longer clips, and scan through the video. Through the minitube player, you can even open the actual YouTube page. When you enter a text for search, it returns the whole video stream matching those keywords and it keeps on adding more results unless you hit the "Stop" button! So don't forget to locate the Stop button before you enter an query for search.
The main reason for developing this platform is to provide users with a chance to watch YouTube videos on your own Linux, Mac or Ubuntu based systems without the requirement for Flash being installed on your system. So its kinda Flash free world.
Download Minitube here for Max, Linux or Ubuntu based systems.
Related Articles: